Wow, I'm ecstatic from the response to this lil newsletter! I was expecting maybe… 10 subscribers… so I'm happy you're all here to feel joy and whimsy with me. 🥰
To kick off Magical Girl Lifestyle, I thought I'd share progress on my home office, where I (and I'm sure many of you) have been spending the workday at since shelter-in-place. As someone who draws energy and creativity from my environment, it was crucial to curate this space as soon as possible.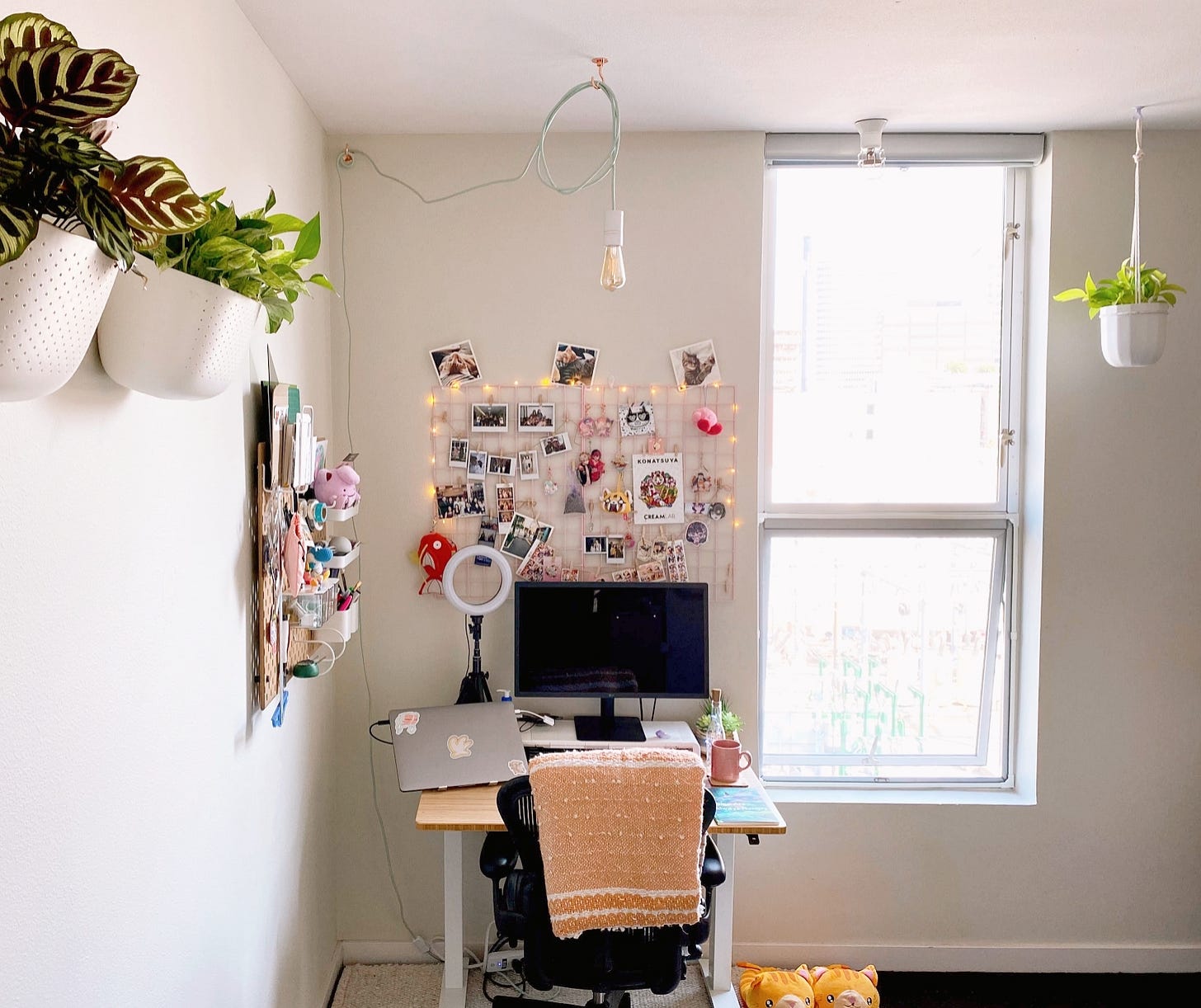 Here's my little office corner! 🌸 I initially had my desk underneath the wall-mounted planters, but the east-facing window kept calling for me. Now, I get lovely sun and my co-workers can see my plant corner behind me (which you'll see if you keep scrolling!). I'm hoping to get a storage unit to fit in the corner and extend the desk a bit~
Decor deets part 1:
Custom Color Cord pendant light — This is one of my favorite office additions! The durable mint chord is just gorgeous, and the plug-in style means it can be set up anywhere in the future, too. They sold out of the glass shade I wanted though, so it's just an aesthetic bulb at the moment 😅

Wallygro wall-mounted and hanging planters — Really great systems for a chronic overwaterer like myself. 💦 My Calathea Makoyana and Marble Queen Pothos are on the left, and Neon Pothos is hanging out on the right.

Jarvis kid's desk lol — Yeah, I bought a kid's size standing desk because it was the best ergonomically for my 5'0" self 😤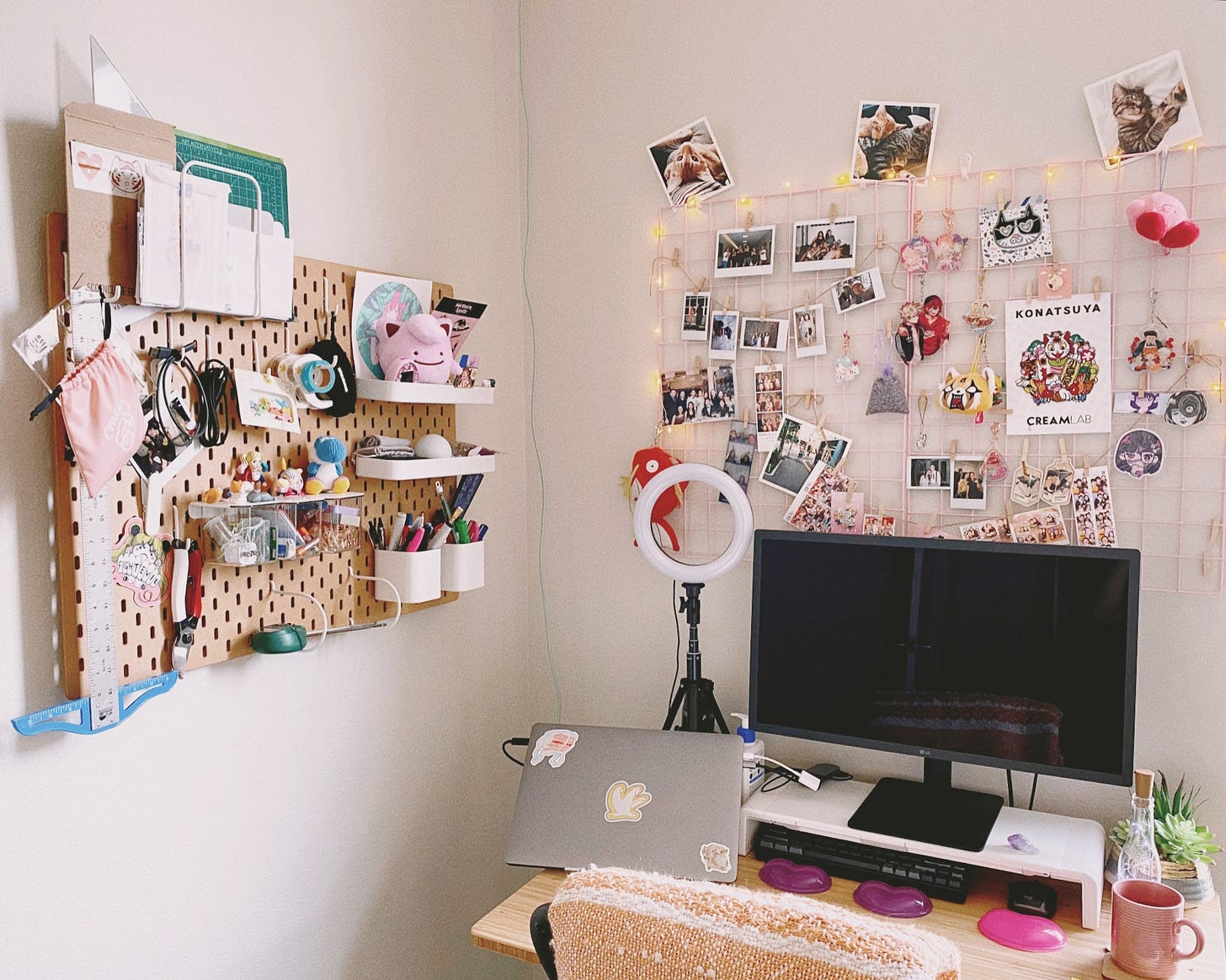 Closeup of the desk corner. I seriously feel refreshed every time I sit here, surrounded by personal photos, art, and little gifts from friends.
Decor deets part 2: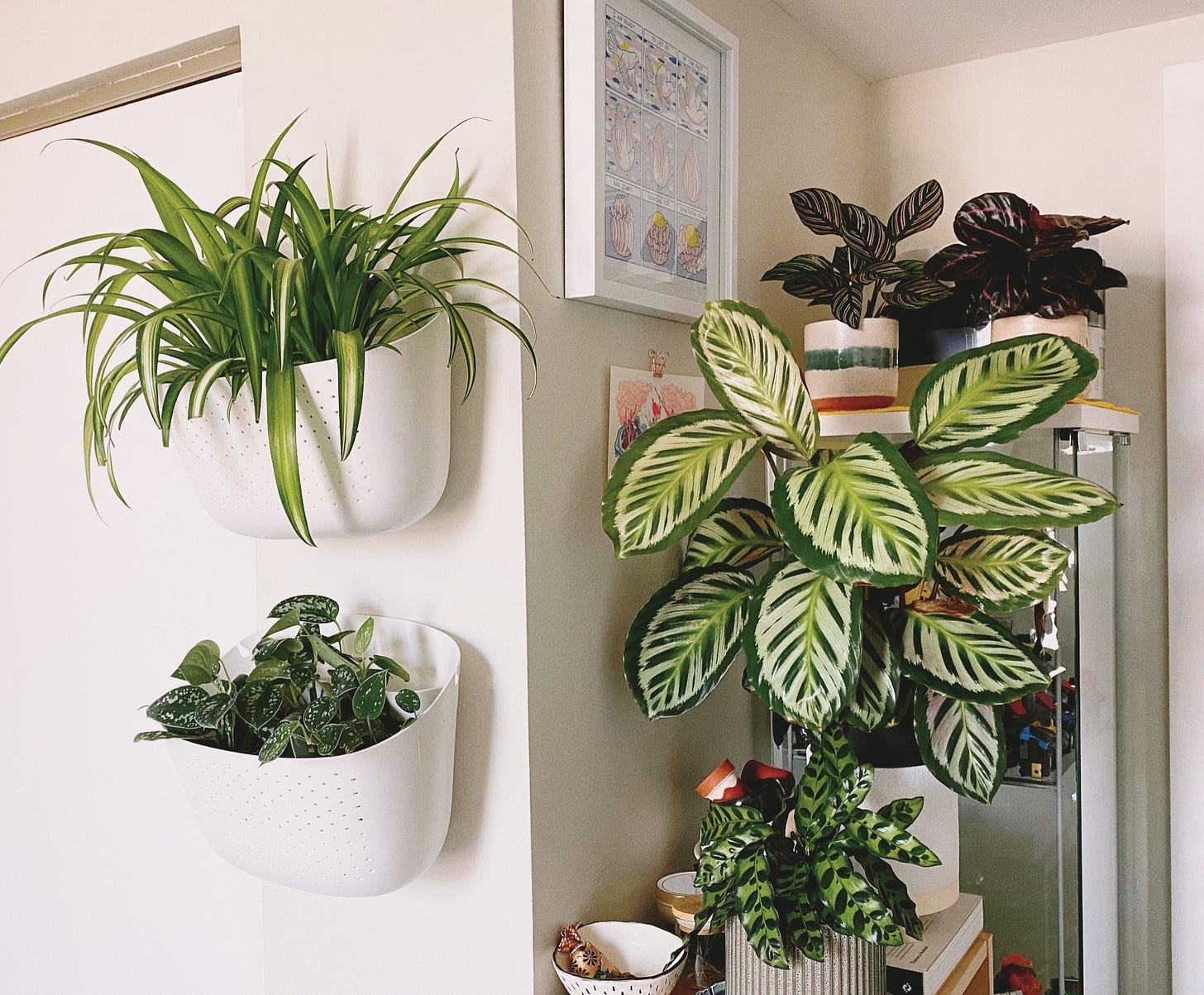 My beloved plant, art, and shrine refuge behind my desk at the office entrance! 💚 As you can see, I'm a budding Calathea parent. Bringing a bit of nature into my space further recharges me and reminds me to take it slow 🌱
Wall plants are silver pathos (bottom) and spider plant (top). The Wallygro containers were a housewarming gift from my frond Maggie 🥰 And the Calatheas are: Rattlesnake (bottom), Cora (middle), Ornata (top left), and Dottie (top right).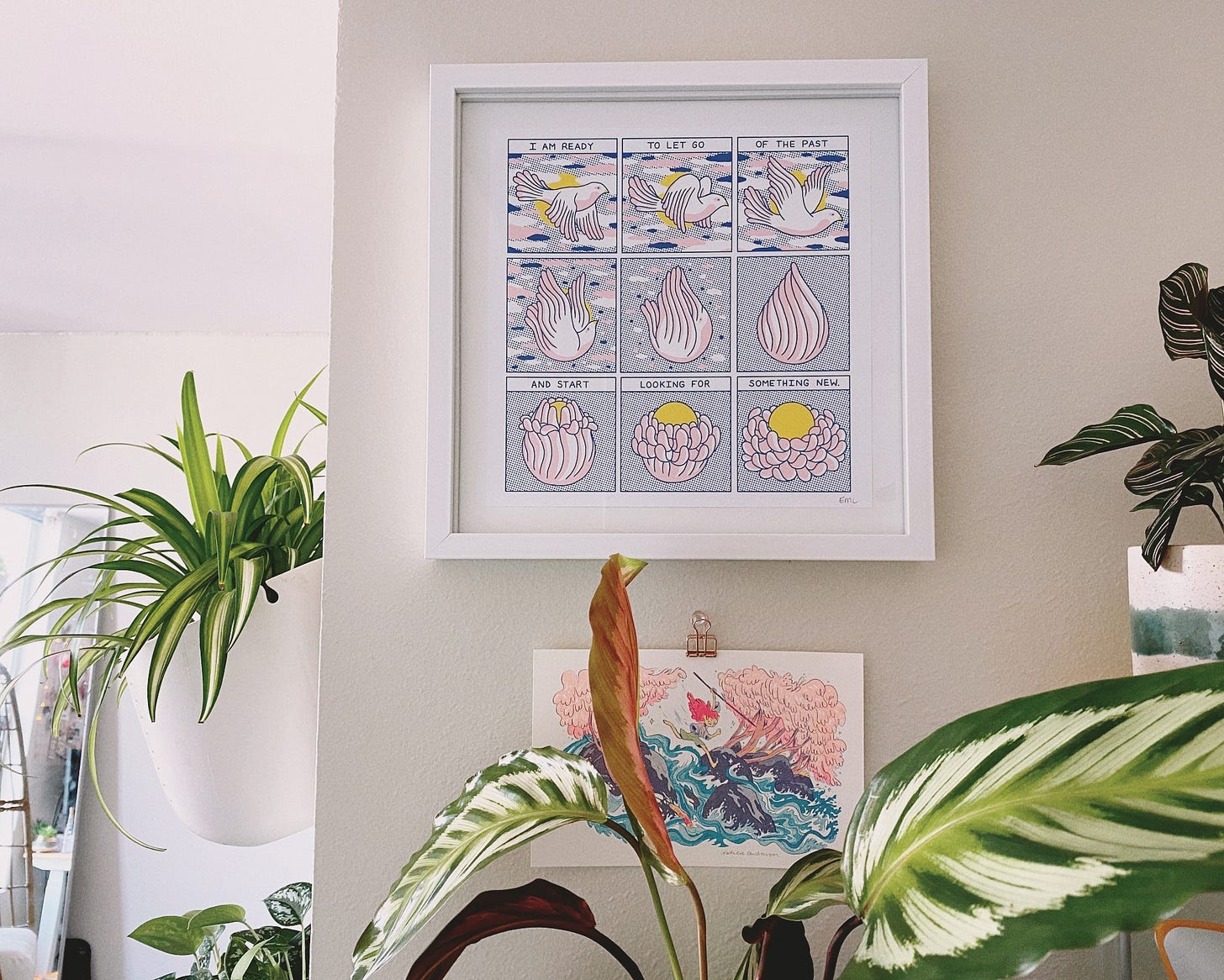 I take moments to breathe and be mindful multiple times a day here. I also leave out offerings for who and what I want to connect with. Most recently, I've been leaving out small gifts for my grandmother's 2nd death anniversary. 🖤 This is the most magical space of my entire home, and it's literally growing everyday!
The framed art is a fitting piece by Evan M. Cohen. The one below is a gift from my friend Vivian and is by Natalie Andrewson. 💝🌊
---
My office space is still a work in progress, so I'll be sure to post updates as I add or update the energy. 🌙💎 I'm also planning on writing a post on peripherals (keeb, headphones, etc)—as well as SO much more that I can't wait to share with y'all! Seriously, I have a whole Notion table with newsletter ideas, haha.
P.S. I'm wondering if I should invest in a basic digital camera?! Let me know if you have recommendations for things that are above an iPhone, but below full-time vlogger. 😂
Thanks for reading my first ever newsletter here, and have a magical Monday! 💖✨